Southborough Little League asked me to share some of their summer news.
The youth league is promoting a clinic coming up in a couple of weeks. In the meantime, they're encouraging youth baseball lovers to come out in support of Southborough's All Stars this week.
Baseball Clinic
SLL is organizing a baseball clinic for 7-10 year olds. The clinic will be held the week of August 16th at their Mooney baseball complex at Finn School. The four day clinic costs $150 per player.
Here are the details:
We would like to keep the excitement going and have made a partnership with HitQuarters in Shrewsbury to run a summer clinic the week of August 16th. We will host this session at the Mooney complex so you will not need to travel far and all we ask for you to bring is your glove, bat, and helmet.

This clinic will be for 7 – 10 year olds (baseball age born between 9/1/10 and 8/31/14) who are looking to further develop their current skills. We will break the players out into age appropriate groups and focus on basic fundamentals across all facets of the game – base-running, fielding, catching, throwing, and hitting. Each day will have a different focus area and will wrap with some formal game play.

The clinic will run Monday – Thursday (8/16-8/19) from 9:00 – 1:00. We will have max of 6 players per coach and the session will be run by professional development staff from our partners at HitQuarters.

Please email playerdev@southboroughlittleleague.org with any questions, thanks!
For details and to register, click here.
All Stars in Tournament Final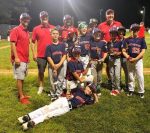 The public is invited to cheer on Southborough's 10 year old All Stars team tomorrow night. The team is playing in the finals of the Northborough/Southborough tournament against Charlton.
The team considers Charlton "their nemesis" since they beat them out in the District championships. (The All Stars were runners-up.) Now the players are looking at tomorrow as "a rematch of epic proportions".
The game is Wednesday, August 4th at 7:30 pm. They'll be playing at Casey field in Northborough (61 E Main St #29).
Updated (8/4/21 10:40 am): I inserted the link for Clinic registration.