If your student is registered to take a bus to a Northborough-Southborough Public School this fall, check your email. The district is communicating directly with parents about their students' bus schedules.
Rather than posting routes for buses, the administration is emailing customized messages for each bus passenger. The message provides information on bus number(s), bus stops, and estimated pickup/drop off times.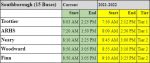 It's not the only thing new about the bus transportation system this year. This September is the start of a revamped bus plan allowing Algonquin students to start school 40 minutes later. That impacted the start time for Southborough K-8 schools as well.
I shared most of those details in previous posts, including the shift from a 3 tier bus system for Southborough to a 2 tier system. What I didn't share was a message to parents in late July explaining one more change. Asst Superintendent of Operations, Keith Lavoie, wrote:
One significant change from previously communicated plans is that we will be running separate PM bus routes for Algonquin and Trottier. This change will reduce the amount of time Trottier students are on the bus. As a result, some students will have a different AM and PM bus.
The July 23rd message targeted early August for messages to parents. I received my family's messages this afternoon. They included the following notice:
NRT is transitioning to a new transportation tracking app. This will enable you to track the pick up and drop off times through GPS. We will communicate how to access the new app when it is available.

Please use the Transportation Request Form to request a change or report a problem with your child's bus assignment. If you have any questions, please contact Jean Pinto, Transportation and Registration Support Assistant at: jpinto@nsboro.k12.ma.us.
The July communication also noted that the district may need to assign seats or conduct other mitigation methods if guidance and recommendations from the state's Dept of Elementary and Secondary Education require it due to Covid. A later email from Superintendent Gregory Martineau promised to share the District's 2021-2022 required health and safety protocols with families the week of August 16, 2021.