The Southborough Library is launching a special program to help patrons with technical questions.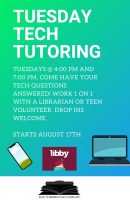 You can bring your tech issues to the Teen room on Tuesday afternoons and evenings through the end of the month.
Library staff and teen volunteers will do their best to "tutor" patrons on questions about ebooks, electronic resources, etc.
This is a drop in event; no registrations necessary. Sessions are limited to no more than 1 hour.
The program will be offered from 4:00 – 5:00 and 7:00 – 8:00 pm on August17, 24, and 31.