I like to occasionally remind readers of all the great museum and park passes the Southborough Library offers*. A few offer free admission, with the rest providing a substantial discount.
As long as I'm at it, I'll also share this summer's free museum admission program from the Highland Street Foundation. Rather than their usual Free Friday program, this summer they organized free admission to one museum for each day in August. For what's left on the schedule, scroll down for details.
As for the Library's Passes, they cover a variety of museums for all age groups. There are also passes for enjoying parks, gardens and wildlife. With so many to choose from, there's something for everyone.
Here's the list by name:
Please note that some passes need to be returned by 10am the next day the library is open. Since the Library is closed for the weekends in the summer, that means one taken out on Friday is due by 10:00 am on Monday. But, many are passes that don't need to be returned and some are online codes which don't even require in-person pickup.
You can find details and reserve passes through the library's website pass manager. Or you can make reservations by calling 508-485-5031 during library hours.
As promised, here is more detail on the August Adventures. Some of the remaining dates in August are already listed as sold out. These are the dates listed as still available as of today: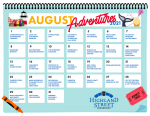 20-Aug – Wenham Museum
21-Aug – Larz Anderson Auto Museum
22-Aug – Peabody Essex Museum
23-Aug – Mass Audubon's Pleasant Valley Wildlife Sanctuary
25-Aug – Paragon Carousel
26-Aug – Fuller Craft Museum
27-Aug – Cape Cod Museum of Art
28-Aug – Out of the Park, Boston Red Sox & City of Boston (no registration required)
31-Aug – Norman Rockwell Museum
*Thanks to the Friends of the Southborough Library for funding the majority of the Library's passes and the Southborough Gardeners for providing the Tower Hill pass.
**The Go Pass provides free/discount parking/access to TTOR properties at the equivalent to the property admission benefit of a Trustees Family level Membership (two adults and children under 18). (It does not apply to special events.) Note: Not every Trustees property charges an admission fee.