Two companies asked me to share job postings in Southborough, plus the schools are promoting their openings, including some new ones since I posted last week.
(If you'd like to share your company's job openings in future weeks, email mysouthborough@gmail.com.)
Culinary Underground
The culinary school at 21 Turnpike Road is seeking dishwashers. "In the past it has been the perfect position for high school or college students."
Shifts are 4 to 4.5 hours, two to three times a week. $15 per hour. To learn more or apply, email info@culinaryunderground.com.
Harvard University (Harvard Book Depository)
Harvard Depository Manager (full-time)
Harvard Library seeks a collaborative professional to manage the Harvard Depository's day to day workflow, optimizing the operational effectiveness of the building and staff. The Harvard Depository Manager leads and oversees and leads the work of staff engaged in providing efficient services in a warehouse environment, engaging with and providing excellent customer service to a range of stakeholders, internally and externally to Harvard.
Reporting to the Associate Director of Access Services for Collections Management and Resource Sharing Operations, the Harvard Depository Manager participates in the Access Services Extended Leadership team, actively engaging with Access Services managers to develop shared policies that support a consistent user experience.
The Harvard Depository is a customer-focused storage facility housing primarily paper-based library collections and records, located in Southborough.
Apply by September 17, 2021 – click here for details (REQ 55256BR)
Public Schools of Northborough and Southborough (NSBORO)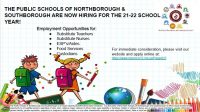 The administration is continuing to advertise long term and substitute positions for the school year that's beginning next week.
Here are the most recent district/Southborough/Algonquin positions:
For other opportunities (previously advertised or in Northborough K-8 schools) click here.
Town of Southborough
Reminder – I posted job listings for the Town last week that included two part-time Recording Secretary positions and two part-time jobs at the Southborough Library. Find those details on the Town website here.