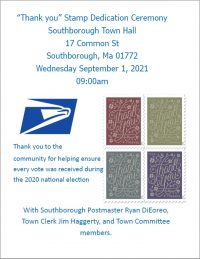 I logged back in, because there was one event that I neglected to share after promising I would.
This Wednesday, September 1st, Southborough's Postmaster Ryan DiEoreo will be making a special visit to the Town House. He will host a ceremony to dedicate USPS' new "Thank You" stamps to members of the Southborough Community who helped ensure that every mailed ballot was received and counted for the 2020 elections in Southborough.
The ceremony will be held at 9:00 am. The public is welcome to attend.