I've been asked to give readers advance notice of an upcoming event. (It's like a "save the date", without the date!)
If you're thinking of getting rid of old winter gear, like outgrown snow boots and snowbibs, you may want to hold off. A community-wide Winter Gear Swap is coming up this fall.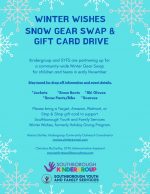 Southborough Kindergroup and Southborough Youth and Family Services are teaming up to support families as winter weather approaches.
The plan is to collect gently used winter outerwear (coats, snow bibs, boots, ski gloves, etc.)*. Southborough families who participate will be invited back to an event in early November to look for items that fit their families.
(Of course, you can donate even if you don't plan to swap anything out.)
The swap is geared to children and teens. However, since many teens wear adult sized clothing, adult castoffs will be welcome, too.
Organizers will also be collecting gift cards for the SYFS' Winter Wishes (formerly known as the Holiday Giving) program. Stay tuned for more details in coming weeks.
*Items should be cleaned up before donating. The drive won't be accepting hats or thin, knit kids' gloves.