If you missed yesterday's Flu Clinic put on by the Southborough Board of Health, you have another chance this Saturday.
The BOH asked me to share news on a free drive thru Flu Clinic. The hope is that families with school aged children will take advantage of the opportunity.
This free clinic for Northborough and Southborough residents ages 6 months and older* is sponsored by the Boroughs regional partnership.
Online pre-registration is required here. (The system will ask you to fill in insurance information to expedite the check-in process on Saturday.)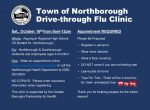 The drive thru will take place at Algonquin Regional High School, 79 Bartlett St, Northborough. It will run from 9:00 am to noon on Saturday, October 16th.
Details posted on the Northborough Town website include a link to an info sheet on the vaccine. Because this clinic isn't geared to seniors, it won't be using the high-dose vaccine.*
The website offers, "If you need help registering, please call the Northborough Health Department at (508) 393-5009."
The event notice also asks participants to leave their pets at home. And it encourages bringing new, unwrapped toys to donate to the Toys for Tots Program.
Remember to wear short-sleeves.
*The Northborough Town website addressed questions seniors might have about whether they should go elsewhere to get the high dose vaccine:
Where can I get the high-dose flu vaccine? Most local pharmacies are offering flu vaccines. Call ahead to confirm availability especially for high-dose vaccine.

Should I get the high-dose flu vaccine? High-dose flu vaccines are only licensed for people 65 years and older and it is not recommended for people with people with a history of severe allergic reaction to the vaccine or to ingredients other than eggs. Speak to your doctor about what vaccine is right for you. Click here for to CDC's Different Types of Flu Vaccines webpage