There are two more Fay School's Farmers Markets to enjoy this fall. The market will feature Halloween related fun for kids this Saturday and next.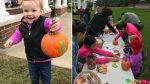 This Saturday morning's official theme is "Festive Fall". On October 16th, kids are invited "to celebrate fall with pumpkin painting and a make-your-own trick-or-treat bag craft."
But the Farmer's Market isn't just about kids. It offers something for all ages, with a variety of vendors each week.
This weekend's vendors/exhibitors are:
One Bite Bakery – mini cupcakes (flavors vary weekly), oreo stuffed chocolate chip cookies, vegan gluten free banana bread, mini cinnamon rolls, snickerdoodle cookies, brownies
Papa's Catch Salmon – wild Alaskan sockeye salmon caught in Bristol Bay Alaska (vacuum-packed whole fillets and portioned fillets)
Yummy Mummy Bakery – homemade baked goods (decadent brownies, cookies, cake pops, edible cookie dough, and more!)
Wild Poppy Farm – locally grown (on Potter Hill Farm in Grafton), specialty cut flower bouquets and bunches, herbs (culinary & medicinal), plus dried flower bouquets, handmade floral wreaths, and other dried flower decorations
Valicenti Pasta Farm – farmstead pasta sauce, various flavors of gourmet ravioli, various flavors of unique fresh pasta, ready-to-cook lasagna
The Jimmy Fund – handcrafted greeting cards with all proceeds from donations going to The Jimmy Fund Walk and Dana-Farber Cancer Research
On Saturday, October 23rd, the above are scheduled to return, along with:
Baypath Humane Society – selling clothing items and giving out freebies (pet bags, hand sanitizer, pens, pencils)
Blue Bird Weaving – Saori handwoven textiles, home decor, and art that is made with sustainable and locally sourced materials, ethical, and uses minimal impact practices
That final day, the market will also host the Southborough Library's Halloween party:
9:00-12:00 Halloween games, crafts & Farmer's Market
10:00 – 10:30 Halloween story time with Miss Kim
10:30 Halloween costume parade
11:00 Spooky music with Stacey Peasley
The Saturday morning markets takes place from 9:00 am – noon in Upjohn Circle. (Parking is available behind Brackett House at 31 Main Street. )
For more details, click here.