The Southborough Gardeners are holding their Annual Guest Day on Thursday, November 4th at 9:30 am.
The event is moving back to its old home at Pilgrim Church's Fellowship Hall (15 Common Street). [Note: Masks will be required.]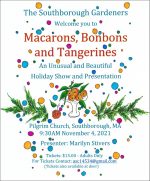 The theme for this year's fundraiser is "Macarons, Bonbons, and Tangerines: An Unusual and Beautiful Holiday Show and Presentation". The featured flower arranger is member Marilyn Stivers, promoted as "a master artist".
Guests will also enjoy "unique, delicious refreshments" and raffles.
Plus, they'll have a chance to purchase orders for holiday wreaths "that will be expertly decorated by the Gardeners and delivered to your home." I don't know what they're whipping up this year, but below are examples of wreaths they sold last year:
Admission is $15. Although tickets can be purchased at the door, attendance is limited to 175 ticket holders. So, you may want to purchase yours in advance by emailing Amy at asc14534@gmail.com.