The Southborough Youth Basketball Association is promoting registration for Town Basketball.
Earlier this fall, I posted that while registration for Boys and Girls grades 1-3 was open, grades 4-8 were uncertain based on school gym capacity issues. The good news is that issues have been resolved:
We have received positive news from the schools regarding access to the schools this winter so Town Basketball registration is open for all boys and girls in grades 1-8.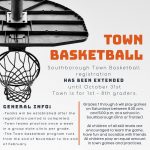 The deadline for signing up has been extended to the end of the month. That also applies for the lower grades.
If you preliminarily signed up a player in grades 1-3 earlier this fall, it's time to complete the registration by paying.
According to SYBA's website and flyer, schedules have not yet been confirmed but the plan for the season is:
Grade 1 plays Saturday mornings only
Grade 2-6 play games on Saturdays (between 8:30 am and 5:00 pm at Finn or Trottier school) and then have 1 night a week of a skills clinic
Grades 7/8 boys just play 2 games a week on Tuesday and Saturdays
Town Basketball is SYBA's program to encourage children of all skill levels to join them to learn the game, have fun and socialize with friends. All kids get equal play time.*
Season begins mid-November and runs through late February.
Grades 1-3 costs $90 per player
Grades 4-8 costs $120 per player (or $70 if the player is already registered for Travel Basketball*)
For more details on the SYBA program, or to register, visit southboroughbasketball.org. If you have any questions, please email southborobasketball@gmail.com.
*(The Travel program is the more competitive program – by tryout only. Registration for that program has already closed.)