Southborough Board of Health updated their Covid figures yesterday. As of the morning of Monday, October 25th, there were 6 new cases confirmed in one week and 17 cases in two weeks. The Town's cumulative total over the course of the pandemic is 642 cases with 7 cases labeled active.
Last Thursday's report by Mass Dept. of Public Health (issued October 19th)* had indicated 19 cases in town over two weeks with the % of tests confirmed positive as 1.23% (higher than the prior report). The Average Daily Incidence Rate per 100,000 was 14.0 (also higher than the prior period).
For details, including a look at the Average Daily Incidence Rates in our region, click on thumbnails below:
As of last week's state report on vaccinations by town – 8,770 Southborough residents had received shots (as of October 19th).
I'm estimating 92% of residents old enough to be eligible for shots are fully vaccinated, and another 7% are partially vaxxed.** See details below:
(For more details on those groups, plus race/ethnicity, click here.)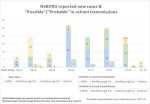 The most recent Northborough-Southborough Public Schools District Dashboard covered through Wednesday, October 20th. The Daily Case Counts reported more cases through October 25th.
19 new cases were reported over 7 days, and another 5 through Monday. Six were in Southborough K-8 and another 3 from Algonquin.
There was a second case of "probable in-school transmissions" reported in the Dashboard. (It's too soon to know if there were any possible/probable transmissions in the "Daily Case Counts" since October 20th.)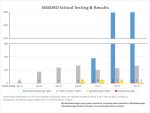 During the week ending October 20th, the pooled screening program confirmed 5 asymptomatic students/staff as infected. One other case was identified through the school's "Test to Stay" program.
Reminder – Testing Sites and Vaccine Clinics:
*The state's report was based on tests taken in the 14 day period ending on the prior Saturday.
**Population figures are just estimates. I use demographics extrapolated from 2019 census data since the state's population data was clearly outdated.