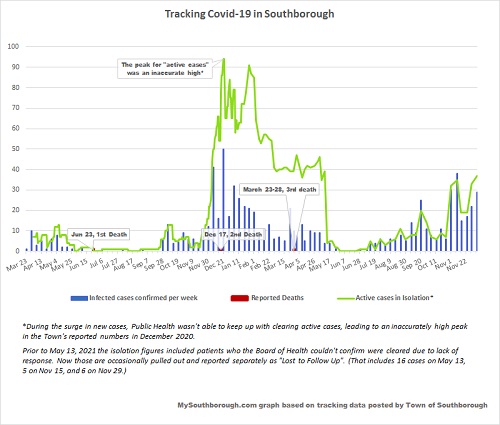 Southborough Board of Health updated their Covid figures as of yesterday afternoon. The numbers had spiked a month ago, then dipped mid-November. Now, they've spiked again, although not quite as high.
There were 29 new cases confirmed in one week and 51 cases in two weeks. About 30% of those cases were residents under the age of 12.
37 cases were labeled active out of the Town's cumulative of 793 cases throughout the pandemic. For more details, click on thumbnails below: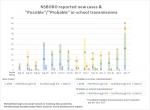 In the two weeks since Thanksgiving, the NSBORO district has seen a significant spike in cases. Over 60% of the 68 cases reported from November 25 – December 7 were in Northborough K-8 schools. For Southborough K-8 there were 14 cases. Algonquin reported 11.

Testing data is only reported through December 1st, so doesn't account for the spike in cases since. For the 7 days reported, the weekly pooled test screened out 5 positive cases.
The latest state report was issued the night of December 2nd, based on data from tests taken through Saturday, November 27th.
That had indicated 41 cases in town over two weeks. In that report the % of tests confirmed positive was 2.64% (higher than the prior report). The Average Daily Incidence Rate per 100,000 was 30.3 (also higher than the prior period).
For details, including a look at the Average Daily Incidence Rates in our region as of that report, click on thumbnails below: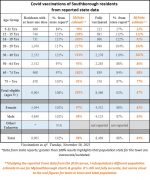 Vaccination rates
As of last week's report by Mass Dept. of Public Health on vaccinations by town – 9,905 Southborough residents had received shots (as of November 30th).
Last week was the first period that 5-11 year olds could have become fully vaccinated. Almost all of the group that received their first dose the week ending November 9th received their second shot by November 30th.
See demographic details below:*
(For more details on those groups, plus race/ethnicity, click here.)
Testing and Vaccine opportunities
For those looking for information on getting tested or vaccines, here again are the links for where to find info on:
A free Drive thru testing facility (through the Town's partnership with Ashland)
Instructions for students to participate in NSBORO's free screening testing program
To find a clinic/location to recieve a Covid Vaccine (including Boosters) click here.
**Population figures are just estimates. I use demographics extrapolated from 2019 census data since the state's population data was clearly outdated.
Updated (12/9/21 2:41 pm): The schools' weekly Dashboard is now out with more details. You can find that here and my updated data and graphs here.