The Southborough Community Fund is promoting, the honoring of teachers and staff who "deserve our gratitude now more than ever!"
Red Apples are donations made to SCF in the name of a teacher or school staff member. The program is a major fundraiser for grants to Southborough educators.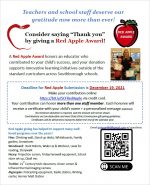 By participating in the Red Apples program, families can honor educators while supporting SCF's future grants for innovative learning initiatives outside of the standard curriculum across Southborough schools. It's a win/win.
The deadline for submissions in time for honored individuals to receive certificates for the holidays is Sunday, December 19, 2021. Contributions are tax-deductible and meet the teacher gift-giving provisions of the State Ethics Commission.
As I've previously posted, Red Apple awards have been given out for years by the Southborough Education Foundation. This past spring, SEF was absorbed SCF in a merger. The reorganized non-profit will continue to give out grants for programs in Southborough schools and Algonquin. (I've been told that the process for the next round of grants will begin after the new year.)
Online contributions can be made (here) in the name of more than one staff member. Each honoree will receive a certificate with your child's name and a personalized message (optional).
If you have any questions, please email Erin Cox, SCF Board member, at erincox444@gmail.com.