[Highlights from last week's competitions and what's on tap this week in high school sports.]
If the cheering in Algonquin's gym isn't loud tonight, it won't necessarily reflect Boys Basketball's performance on the court.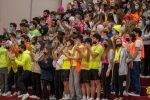 The team is off to a strong start (2-0) as covered by the Telegram last week. Unfortunately, a sudden uptick in Covid cases at the school has prompted a restriction in attendance. (To understand the decision, you may want to check out pics of the stands from their last game.)
From the administration:
Today, we were notified of ten ARHS students who recently tested positive for COVID-19. Additionally, we are awaiting test results from several others. Due to this rapid uptick in positive cases in our student population and in an effort to ensure that our events are safe for our students and families, student spectators are prohibited from attending any of today's athletic contests. These include: boys JV1, JV2, and Varsity basketball games at home versus Shrewsbury AND girls JV1 and JV2 games away versus Shrewsbury.

Please note: adult family members and siblings of players are welcome to attend. Please remember, masks are required to be worn properly (covering the mouth and nose) at all times.

There are no restrictions for students planning to attend the winter concert as the spacing in the auditorium prevents the type of crowding that we typically see at athletic events.

We are evaluating our ability for students to attend future athletic events and will share that information as soon as it's made available. I recognize how enjoyable our athletic events can be. However, it is critical that we do everything we can to keep students and staff safe and healthy; limiting fans at athletic events is one mitigation strategy we can employ to try to ensure in-person instruction is not disrupted.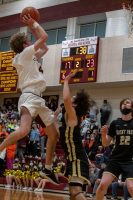 Last week, the Telegram wrote about Boys Basketball as one of two Algonquin teams that show promise this season despite having lost key players to past success.
Algonquin Regional boys' basketball has had plenty of experience over the past decade transitioning on from a dominant big man — and coach Brian Doherty faces that same challenge again this year after center Todd Brogna transferred to Worcester Academy.

Brogna is the latest in the line a line of outstanding frontcourt players out in Northborough — following in the footsteps of A.J. Brodeur and Alex Karaban — but despite losing the top scorer in Central Mass. Division 1, Doherty has his squad off to a running start.

"We don't have that go-to stud, and we don't need it this year because we're very deep, very athletic and very quick," Doherty said. "This is a completely different style than we've played in the past. It's fun for me, and the kids love it. They're really buying into it." (read more)
Another undefeated team, with four wins under their belt as of last night, is Girls Hockey. The Telegram wrote:
Any concerns that the Algonquin girls hockey team would experience some sort of power outage following the graduation of Kerryn O'Connell has been quickly put to rest.

O'Connell – the program's all-time points leader and owner of the highest point-per-game ratio in school history – is now in New Haven, Connecticut, continuing her hockey career at Div. I Sacred Heart University.

Following the maroon and gold's 10-0 win over host Franklin at Pirelli Veterans Memorial Arena, it's clear that the Algonquin (3-0) offense hasn't missed a beat in O'Connell's absence, outscoring opponents 26-0 thus far.

It hasn't been just one player filling that void left by O'Connell. It has been a complete group effort for the co-operative team that has players from not only Algonquin, but also Hudson, Marlborough, Nashoba, Clinton and AMSA. (read more)
The paper also tweeted a video highlight from the Franklin game last Thursday:
END 1st period: @GonkHockey 3️⃣, @FHSSports 0️⃣

Emily Johns with two goals already as Bryan Donnelly opens the scoring with this goal 6 1/2 minutes into the 1st period. @MetroWestSports pic.twitter.com/aUDh4g7tyb

— Ethan Winter (@EWints) December 17, 2021
Last week wasn't as good for most of Gonk's other varsity teams.
Boys Hockey won the first round of the Boroughs Cup, 8-1 over Westborough. (You can read about that in the Community Advocate.) But, they lost the Championship 6-2 to Marlborough. (You can read about that in the Telegram.)
For the news below, click links the Telegram's info on individual athletes' achievements (even when the overall team score was a loss):
Wrestling lost to three teams in a tri-meet with Mt Hope, Central RI, and Canton RI.
In other, news related to Algonquin Athletics, the Regional School Committee approved the Mascot Study Group's winnowed down list of options. The next steps are completion of design concepts to share with students, followed by a student vote to pick their top choice. You can read more in the Community Advocate.
Now, here are the ARHS varsity games on tap for the week.
(To check for changes or find a complete schedule of Algonquin sports, including JV, freshmen, and unified match ups, click here. Follow these links for the Assabet sports schedule and the St. Mark's sports schedule.)
Tuesday, December 21, 2021
7:00 pm – ARHS Girls Basketball vs. Shrewsbury High School @ Shrewsbury
7:00 pm – ARHS Boys Basketball vs. Shrewsbury High School @ Algonquin
Wednesday, December 22, 2021
4:30 pm – ARHS Girls Swimming/Diving vs. Gardner High School @ College of the Holy Cross
4:30 pm – ARHS Boys Swimming/Diving vs. Gardner High School @ College of the Holy Cross
6:00 pm – ARHS Boys Ice Hockey vs. Auburn @ Horgan Skating Arena
6:30 pm – ARHS Wrestling vs. Shepherd Hill Regional High School @ Algonquin
8:00 pm – ARHS Girls Ice Hockey vs. Natick @ New England Sports Center
Thursday, December 23, 2021
7:00 pm – ARHS Boys Basketball vs. Westford Academy @ Westford Academy