Next week, the Southboough Library is inviting children to to drop-in, drop-off, or stroll by for fun. Below are details on three special events.
[Note: As I've previously posted, the Library will be closed for the holidays this Friday, Saturday and Monday, as well as the following Saturday. Regular hours apply on the days they are open.]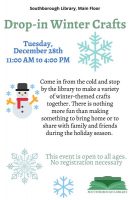 Drop-In Winter Crafts
Tuesday, December 28th from 11:00 am – 5:00 pm
Come in from the cold and stop by the library to make a variety of winter-themed crafts together. There is nothing more fun than making something to bring home or to share with family and friends during the holiday season. This event is open to all ages. No registration necessary.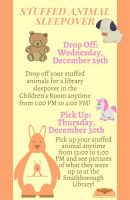 Stuffed Animal Sleepover
Drop-off is Wednesday, December 29th from 1:00 – 4:00 pm
Pickup is Thursday, December 30th from 12:00 – 5:00 pm
Drop off your stuffed animals in the Children's Room for a library sleepover. . .
We can't wait to host our first ever stuffie sleepover and see what kind of magical adventures and fun happen…will they find their favorite book and make new friends? We will have to wait and see what they get up to!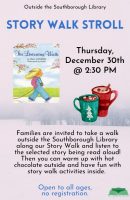 StoryWalk Stroll
Thursday, December 30th from 2:30 – 3:30 pm
Take a walk with us along the Story Walk outside and listen to the story being read aloud. Then warm up with hot chocolate and have fun with some story walk related activities inside. Open all to all ages, no registration necessary