The Board of Health announced that the Covid Booster Clinics for Southborough, Northborough and Boylston residents will be opened to the general public at the end of this week. Once that happens, appointments will likely fill up fast. So if you or a family member ages 12 or older needs a Booster shot, sign up now. (Scroll down for those details.)
While I'm sharing that info, I'll also update the latest figures. They continue to break records.
Town Data
As of yesterday morning, 414 new cases were reported in Southborough. That's for the 10 days since the previous report on January 2nd. (Notably, it's more than double the count of the prior two weeks which were already at a record high.) 183 cases were labeled as in isolation.
As I've previously posted, the Public Health Director and Nurse believe the figures don't cover a significant number of residents who either aren't testing or whose at home test results aren't included. Although most cases for those vaccinated are mild, and most residents are vaccinated, there is concern about the increased spread impacting more vulnerable populations.
That's why a Mask Mandate is currently in place. And also why the Town is promoting Booster shots to better protect the community. As I reported last week, about 55% of residents over the age of 16 received boosters by January 4th.
NSBORO Schools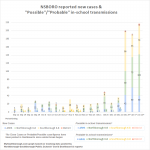 "Due to the volume of cases and contact tracing", NSBORO Schools hasn't been able to keep up this week with reporting Daily Counts or posting this week's Dashboard. Since I last posted about their numbers, 180 new cases were reported for Friday, January 7th – Monday the 10th. That's more cases in 4 days than ever reported in one week.
57 of the new cases were from in Southborough K-8 schools and another 32 from Algonquin. (In the graph right those figures are combined with the cases I previously reported for Thursday, January 6th.)
The figures don't capture the most recent pooled screening tests. (They do capture the results from last week's tests which weren't in yet as of the Dashboard for Dec 23, 2021- Jan 5, 2021. Starting this week, the district shifted to screening students on Mondays. That means this week's Dashboard should include this week's results.)
Booster Clinics
The Town's message about the remaining Booster Clinics (including one tomorrow morning), is below:
CDC now recommends that everyone 12 years and older receive a booster shot five months after their initial Pfizer-BioNTech or Moderna vaccination series. Appointments for students, residents, and employees in the towns of Boylston, Northborough and Southborough. These clinics are supported by the Northborough and Southborough Health Departments, the Greater Boroughs Partnership for Health, and local Fire Departments. Please register, as these appointments will be going to the general public at the end of the week!

Dates: Tuesdays, 18th and 25th from 5pm-8pm and Friday, January 14th from 9:30am-12pm.
Location: Northborough Senior Center (119 Bearfoot Rd, Northborough, MA 01532)
Signup Link and more information: https://tinyurl.com/nboropfizerbooster
Vaccine Brand: Pfizer ages 12 + formula, 0.3mL dosage
Details:

Pre-registration is required. No walk-ins. You will receive an email confirmation once registered.
Please enter your insurance information when registering online. You will not pay any fees or co-pays. Uninsured accepted.
Wear short sleeves. Please bring your COVID-19 Vaccination Card (if available).
If you are registering for a first dose appointment, please contact the Northborough or Southborough Health Department for assistance with registering. The above link is for booster and second dose appointments only.
If a minor (under 18 years of age) is not accompanied by a parent/guardian at the clinic, we require a signed consent form. https://www.mass.gov/doc/covid-19-vaccination-consent-form-for-individuals-ages-5-17-english-1132021/download. If a parent/guardian is present, this form is NOT required.

If you need to cancel or reschedule your appointment, please do so through your email confirmation link from Color. Please do not reply to this email. If you need assistance, please contact your local board of health.

If you are 18 years or older and are looking for a Moderna vaccine, please visit https://tinyurl.com/nboromodernabooster for local appointments.