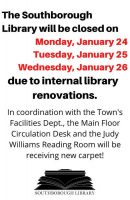 The Southborough Library is closing its doors to the public for three days next week. It's to allow for the installation of new carpets.
The dates are Monday, January 24th – Wednesday, January 26th.
So, if you're looking to borrow something to read (or watch or listen to) next week, plan ahead.
The Library is open until 9:00 pm tonight and from 10:00 am – 5:00 pm this Friday and Saturday.
As for the days the Library is closed, you can still take advantage of their online services through their website.