Before I get to last week's results, it looks like eleven Algonquin Athletes have commitments to play for colleges next year. The school tweeted the following Congrats (click to enlarge):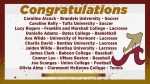 After a one week delay, Algonquin Basketball made it to the Garden on Saturday. Both the Boys and Girls took on Nashoba at the special invitational on the Celtics' home court. The Girls triumphed, 48-43. The Boys were beaten 38-52. Thanks to Owen Jones Photography for his shots below. (There are many more, and much larger, on his website here. And for Wicked Local's gallery, click here.)
Currently, the ARHS Girls have a 9-4 record and the Boys 5-9.
In other special competitions, Swimming & Diving and Indoor Track competed in their MidWach League Championships last week.
On Thursday, the Gonk Boys Swimming & Diving team remained undefeated. They came in 1st out of 12 schools. The Girls ranked 9th. You can check out Metrowest Daily News' photos from the event. (The first pic below is of Branden Yan competing in the individual medley.)
#Algonquin, #Westborough and #AMSA boys and girls swim teams in action today at Mid-Wach league meet in Sturbridge. @WestboroRangers @THawkTweets @AMSA_Athletics @MetroWestSports @EWints PHOTOS:https://t.co/3lXkp2FqZC pic.twitter.com/WwYazn1U5O

— 𝐊𝐞𝐧 𝐌𝐜𝐆𝐚𝐠𝐡 (@kmcgaghMWphoto) February 4, 2022
At Saturday's Track Meet, the Girls earned 2nd place as a team and the Boys 4th. You can find more on individual results here. They head to Districts this weekend.
The same day, Gymnastics improved their record to 7-3 by outscoring Shrewsbury. It's their turn to compete in League Championships this week.
Girls Hockey's racked up two more wins last week, improving their record to 11-1-2. The Boys are 10-5 after another 2 losses followed by a win.
Wrestling lost another meet (to Monty Tech/Fitchburg) making their record 3-8. Seeding for their Sectionals on Saturday will be posted later this week.
Now, here are the ARHS varsity games on tap for the week.
Monday, February 7, 2022
6:00 pm – ARHS Girls Ice Hockey vs. Shrewsbury High School @ New England Sports Center
6:30 pm – ARHS Gymnastics Meet vs. Groton-Dunstable Regional @ Planet Gymnastics
Tuesday, February 8, 2022
7:00 pm – ARHS Girls Basketball vs. Leominster @ Algonquin
7:00 pm – ARHS Boys Basketball vs. Leominster @ Leominster
Wednesday, February 9, 2022
6:10 pm – ARHS Boys Ice Hockey vs. Groton-Dunstable Regional @ North Star Ice Sports, Westborough
Thursday, February 10, 2022
6:30 pm – ARHS Ski Team Varsity Race @ Ski Ward Ski Area
Friday, February 11, 2022
7:00 pm – ARHS Girls Basketball vs. Wachusett Regional @ Wachusett Reg. High School
7:00 pm – ARHS Boys Basketball vs. Wachusett Regional @ Algonquin
7:00 pm – ARHS Girls Ice Hockey vs. Pope Francis @ Smead Arena, Springfield
Saturday, February 12, 2022
TBD – ARHS Girls Indoor Track District Meet @ Fitchburg High
TBD – ARHS Boys Indoor Track District Meet @ Fitchburg High
8:00 am – ARHS Wrestling Sectionals @ Leominster
1:15 pm – ARHS Gymnastics vs. Groton-Dunstable Regional @ Planet Gymnastics (League Championships)
2:10 pm – ARHS Girls Ice Hockey vs. Oakmont Regional @ New England Sports Center
(To check for changes or find a complete schedule of Algonquin sports, including JV, freshmen, and unified match ups, click here. Follow these links for the Assabet sports schedule and the St. Mark's sports schedule.)