Continuing interior renovations of the Southborough Library will soon again temporarily impact public access to the building, and (even sooner) the ability to access materials.
The Library will be closed for one week: Monday, February 14th through Saturday, February 19th. Due to the timing of Presidents Day, that means the Library won't reopen until Tuesday, February 22nd.
As with the last closure, Library staff will still be available to assist the public using the LibraryH3lp chat via the library's website.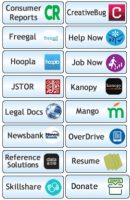 In addition, the Library has a slew of digital materials and resources available through their website, including online research databases. (I previously described many of those options here.)
But if you want to get your hands on books and other physical materials, you should head to the Library by this Saturday – sooner if you're interested in adult materials.
Prior to the closure, staff need to relocate some of the books in the adult stacks. They'll be starting that work this Friday, February 11th. That means some items in the adult collection will be temporarily unavailable.
The interior renovation project is coordinated by the Town's Facilities Department. According to an announcement from the Library, this next phase will cover:
In the area of the upper/Main Floor book stacks

painting
installing new carpet

Replacement of ceiling tiles
Below are some pics the Library shared following the temporary closure a few weeks ago. It shows the results of new carpet installation, including the difference where it meets the section yet to be replaced.