Southborough's Stewardship Committee is inviting residents to give some quick feedback before they name trails in the Town Forest. (For those of you not familiar with the property, you can view a map of the forest below right.)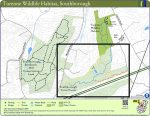 An announcement asks for help choosing trail names for new signage to be installed. A message within the survey further explains:
The Town Forest signage is getting a makeover thanks to funding from a Choate Fund Grant. The Stewardship Committee is seeking community input on trail names. We want your help to narrow down a list of potential trail names related to the flora and fauna found on the property. We are asking you to rank the names in order of your preference. The top 5-6 highest ranking choices will be used for the trail names. Responses are due by Sunday, 2/20/22.

The Town Forest is a 54 acre forest that offers a small trail system located between Woodland Road and Walnut Drive. It's a beautiful place for a brief stroll in the forest. To learn more about the town forest, click here.

We expect the signage to be installed in April/May. Thank you for your feedback.

Happy Trails,
Stewardship Committee
The survey simply asks residents to rank their preference for the following choices:
Witch Hazel Way
Rocky Narrow
White Pine Path
Wood Frog Way
Spring Peeper Path
Hickory Lane
Huckleberry Way
Sweet Pepperbush Path
Wintergreen Way
Black Birch Way
Red Maple Trail
Spicebush Trail
Salamander Trail
Sassafras Path
Solomon's Seal Trail
Pipsissewa Path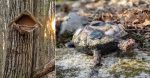 If you haven't hiked the forest trails within the last year, you also may be interested in reading about a project from last spring to add handcrafted bird houses and "small wetland statuettes of local wildlife" along the trails for the community to "hunt" for on their hikes.