The Southborough Library is inviting 10-18 year old to join their creative writing club.
The initiative is led by the Library's Marianna Sorensen. She is also seeking teen volunteers to help lead the program. (This does count towards volunteer hour credits.)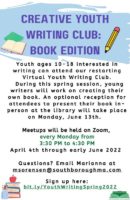 This spring, the Youth Writing Club will focus on creative writing. Writers are encouraged to with help of writing prompts and positive feedback. The ultimate goal is for each writer to write a book – either a story or a collections of short stories.
The club had taken a hiatus. It will resume virtual meetings in April. The Library plans to host a special event in person event on June 13th for those who wish to join them to celebrate their books. Those books will be first shared with the group, then put on display for patrons to view at the Library.
Meetings will take place over zoom weekly on Mondays from 3:30-4:30 pm, starting on April 4th. To register to join the sessions, click here.
If you have any questions about the club or volunteering, email Marianna Sorensen msorensen@southboroughma.com.