Over spring break, the Southborough Library will welcome special guests "Records and Burpee Traveling Children's Zoo". As you might expect, the fun will be taking place outside of the building.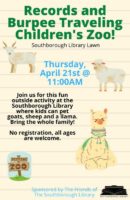 The zoo will welcome visitors on Thursday, April 21st from 11:00 am to noon on the Libary lawn:
Join us for this fun outside activity at the Southborough Library where kids can pet goats, sheep and a llama. Bring the whole family!
No registration is required for this event. The entertainment is sponsored by the Friends of the Southborough Library.