Every year, the Northborough/Southborough Special Education Parent Advisory Council (NSPAC) hosts a "Basic Rights" workshop.
Subtitled "Understanding the IEP A Free Virtual Workshop for Parents and Professionals", this year's workshop is scheduled for Thursday, April 28th from 6:30 – 8:30 pm. The program is brought by the Federation for Children with Special Needs.
The flyer promotes:
This presentation will delve into the Individual Education Program (IEP) document, its development, the breakdown of each section and understanding how the document will support a student.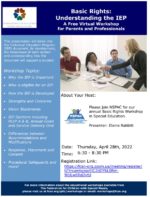 Workshop topics cover:
Why the IEP is Important
Who is eligible for an IEP
How the IEP is Developed
Strengths and Concerns
Vision Statements
IEP Sections including PLEP A & B, Annual Goals and Service Delivery Grid
Differences between Accommodations and Modifications
Response, Placement and Consent
Procedural Safeguards and more!
The workshop will be presented by Elaine Rabbitt. Rabbitt is Vice President of the Special Needs Advocacy Network. She is a special education advocate and parent coach who has supported families in Central Massachusetts since 2007.
To register, click here.