The public is invited to a special concert by the Northborough Area Community Chorus on May 1st. The chorus will celebrate its 50th anniversary.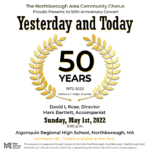 The concert will take place at Algonquin Regional High School on Sunday, May 1st at 3:00 pm. Admission is $5 at the door.
NACC "was formed in the spring of 1972 and has grown from a few hearty people of Adult Education Classes at Algonquin Regional High School, who enjoyed singing, to a spirited blend of 60 SATB voices" at its peak.
The chorus now represents many local communities. They welcome new members 16 years of age and up regardless of age, ability, and background. Member communities traditionally include Southborough. That may be why the Southborough Cultural Arts Council was among the state councils to provide a grant to NACC for this year.
A month ago, the Community Advocate interviewed a longtime member and covered recent changes. You can read that here.