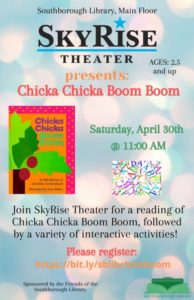 A week from tomorrow, Skyrise Children's Theater will be holding a special story time at the Southborough Library for ages 2½ and up.
Organizers will read the fun alphabet romp, Chicka Chicka Boom Boom. The reading will be followed by "a variety of interactive activities".
The event is free but registration is required (here). It takes place on Saturday, April 30th. The fun will be on the main floor of the Library from 11:00 – 11:45 am.
The event is sponsored by the Friends of the Southborough Library.