Registration is open for Jr. T-Hawks Northborough/Southborough Youth Football and Cheer.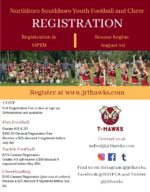 The new season will kick off August 1st. But to qualify for the early bird discounts, you need to sign kids up much sooner. (Scholarships are also available.)
This year, the Jr. T-Hawks tackle football is open to grades 4-8.
They also offer "Flex Flag Football" for grades K-3:
a fun and exciting opportunity to engage in light contact (blocking is allowed), continuous action while learning lessons in teamwork. . .

Flex Flag, or "Flex Football" is a variation of flag football that provides young players a "bridge" from traditional flag football to tackle football.
The football programs are open to girls, and some do participate. More sign up to be Jr. T-Hawk's Cheerleaders, open to K-8.
Early Bird registration details are in the flyer right. For more info on the program click here.