In early June, an Early Childhood Fair will be held for families with children ages 0-5. It will feature music, children's activities and family fun.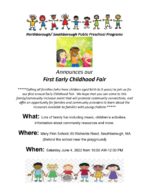 The event is hosted by the preschool programs run by Northborough – Southborough Public Schools:
The purpose is to connect families with small children to community resources for early childhood education.
Their intent is to make this an annual event.
The fun will take place behind Finn School at 60 Richards Road on Saturday, June 4th from 10:00 am – noon.