This Wednesday, the Southborough Open Land Foundation will hold its Annual Meeting. As usual, they are bringing in a special presenter and inviting the community to join them.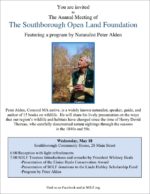 This year, the presentation is by widely known naturalist Peter Alden a speaker, guide, and wildlife author:
He will share his lively presentation on the ways that our region's wildlife and habitats have changed since the time of Henry David Thoreau, who carefully documented nature sightings through the seasons in the 1840s and 50s.
The meeting is May 18th at the Community House, 28 Main Street. It will begin at 6:00 pm with a reception and light refreshments. The meeting will begin at 7:00 pm. On the agenda:
SOLF Trustees Introductions and remarks by President Whitney Beals
The Elaine Beals Conservation Award will be awarded to Jim Gorss, a founding member and longtime Chair of the Stewardship Committee
Presentation of SOLF donations to the Linda Hubley Scholarship Fund
Program by Peter Alden
SOLF's website's bio of Alden details that he:
has written more than 15 books on North American and African wildlife, including the National Audubon Society's Regional Field Guide Series. He organized the world's first Biodiversity Days with Dr. Edward O. Wilson. On two July days, 2,700 species of fungi, plants, and animals were found within five miles of Walden Pond.
No registration is required for this free event.
For more information on SOLF, click here.