I'm rounding up Town news items related to Police and Fire Departments. They cover personnel changes, emergency responses and some previews of news to come. Those include the police chief assessment plans, EV Charging at the Public Safety Building, and the long-on-hold naming of rooms in the Public Safety Building.
Public Safety staffing updates
Fire Department promotion and departure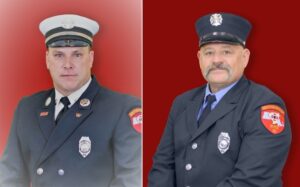 Two members of the Southborough Fire Department are moving up in rank this summer. For one of them, that requires handing in his resignation.
Mark Sadowski was a Captain in the SFD, and part of the department for 21 years. In 2018, he graduated from the Chief Fire officer program. His last "tour of duty" in our town is this Wednesday. He'll be sworn into his new job as West Boylston's Chief on August 1st.
This Friday at 10;00 am, the department will be holding a swearing in ceremony to promote Firefighter Scott Navaroli to Lieutenant. Navaroli has been part of the SFD crew for 14 years.
Police Chief search status and other SPD staffing news
Last week, the Select Board was scheduled to discuss/vote on an assessment center for the internal candidates vying to replace the Police Chief. A memo from the Asst. Town Administrator stated that she solicited quotes from three firms to evaluate candidates and make recommendations. She recommended they engage Community Paradigm for $6,000. Work was to include a panel interview of the candidates, a writing assignment, and situational questions/scenarios.
Instead of discussing it, Chair Kathy Cook said the item wasn't quite ready for primetime. They will hold a special quick meeting when they have details worked out. [Editor's note: That is scheduled for this Friday, July 22nd, at 8:00 am.)*
In that meeting, the Board also voted to further extend Acting Chief Newell's term from July 12th to until October 1st.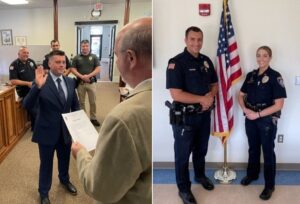 Earlier in the meeting, at Newell's request, the Board approved the appointment of Owen O'Brien as a Student Officer. He will replace Officer Brendan Campbell who transferred to the Southborough Water Department in April. He will become a probationary officer upon graduation of the next available Police Academy. The next full time academy opens in October. (Those typically take 6 months.)
Last week, the SPD also announced that two officers will be splitting a designation that was left vacant by Campbell's departure – Senior Citizen Liaison. Officer Jeff Norton is working the day shift and Officer Julia Fontana the evening shift.
Coming Attractions
Look for the following items to be on future Select Board agendas.
EV Charging at the Public Safety Building
At last week's Select Board meeting, one item that was postponed indicated the Town intends to have charging stations for electric vehicles installed at the Public Safety Building. The agenda and packet materials show that the Select Board was meant to vote on granting an easement to National Grid. A rough map identified a spot near the lobby entrance. But an email included notes that final placement would be discussed before installation.
The item was held for a future meeting without any discussion. So stay tuned for details on that.
Overdue naming of Public Safety Building rooms
In 2019, the Board of Selectmen asked the Public Safety Building Committee to make recommendations on "naming" rooms in the new complex. The public was encouraged to submit the names of people they believed should be honored/recognized. The committee formed a subcommittee and asked for nominees to have an area of the building named after.
In January 2020, the subcommittee forwarded its recommendations to the Board. For the three areas they were seeking to name, they ranked their top three choices:
Fire Training Tower: 1st choice – Chief Peter Phaneuf, 2nd – Hubley Family, 3rd – Chief Edward Brock
Dispatch Center: 1st choice – Chief William Webber, 2nd – Mattioli Family, 3rd – Sgt. Ray O'Connell
Meeting/Training Room: 1st choice – Jason Malinowski and John Rooney, 2nd Daniel Kolenda, 3rd – Edward Donahue
Those recommendations appeared to covered all but one of the nominees. (One nomination was for the Dispatch center to be named after both Chief William Colleary and Chief Phaneuf. The other specific nominees that didn't make the list were included in broader nominations for their families.)
In March 2020, the Board referenced the letter and said they would discuss at a future meeting. The pandemic obviously pushed that item down on their to-do list. But somehow, it appeared to fall off completely. It wasn't raised as one of the outstanding issues when the Board discussed dissolving the building committee. And I didn't find reference to it in any Select Board meetings since.
In March of this year, I emailed Town Administrator Mark Purple and then-Select Board Chair Lisa Braccio but didn't get a response. When I followed up this week, Purple responded:
The PSB Naming Subcommittee was an initiative of a prior Select Board, and the recommendations were not acted upon when the Board changed. It has not been intentional, but it also has not been scheduled yet for discussion or further consideration. I will talk with the Chair about getting it on a future agenda.
So, look for that topic to come up again.
Update on potential regionalization of Dispatch
A topic that the Board has been discussing is the possibility of eventually eliminating use of the building's Dispatch Center.
The Town is looking at some expensive tech upgrades down the road that would be needed to maintain the dispatch center. Meanwhile, the state has been offering financial incentives/assistance for towns to regionalize the resource. Last fall, the Select Board approved including Southborough in a study looking at creating a regionalized dispatch call center for five area towns.
Vice Chair Chelsea Malinowski updated the Board in February that they wouldn't be able to make this year's grant application cycle. She expected the next funding window to close March 2023. The Board will be shooting to have enough information in advance of that to make a decision about what course to pursue.
It's not clear that the report will include one option the Select Board would like to further investigate. This summer, board members and the public safety chiefs visited a regional dispatch center in Foxborough. Last week, Cook said she was totally blown away by the impressive operation.
Aside from cost savings, one benefit they observed of a shared center was the ability to handle more calls at once. An example provided was a dispatcher staying on the line with a distressed member of the public while a co-worker took over other responsibilities.
Members agreed that joining the Foxborough operation was an option to consider. Benefits include not having to wait 8-9 years for something new to be built.
The challenge that will still need to be addressed for any regionalization is how they handle members of the public who walk into the station. They heard that approaches vary, using police officers or civilian staff.
Emergency Responses
Most of the important work the public safety personnel do isn't in the building. Below are some of the emergencies that officers, firefighters, and EMS responded to this summer.
Youth Outreach
Under the category of more pleasant news. . . On Facebook, SPD shared that School Resource Officer Kevin Landry (in his 22nd year) made the rounds for end of school year events. That included bringing fellow officers in to dish out lunch and chat with the kids. Click the following links for more photos from Finn, Woodward, and Neary schools' "Lunch Takeover Days".
This summer, personnel also also participated in touch-a-truck events. The SFD brought a truck to the Early Childhood Fair put on by the NSBORO preschool program at Finn School in June. This month, police, fire, and public works brought their vehicles to Fay Camp.
*Updated (7/20/22 8:21 am): Yesterday, after I ran this story, an agenda was posted for a Select Board meeting this Friday morning. The Police Chief assessment center is on the agenda.