The Southborough Library is hosting another series of "Crafternoons" this fall, including one this week. The popular free workshops for ages 8+ require pre-registration.
The Crafternoon series are led by crafter Mandy Roberge. This fall, in-person workshops are slated to take place monthly on Wednesday afternoons from 4:00 – 5:00 pm. To sign up for any of them, click here.
Here's the lineup: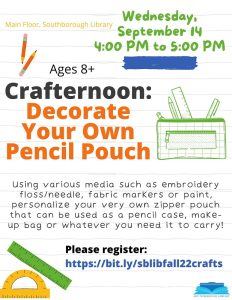 Decorate Your Own Pencil Pouch – September 14
Using various media such as embroidery floss/needle, fabric markers or paint, personalize your very own zipper pouch that can be used as a pencil case, make-up bag or whatever you need it to carry!
Painted Mini-Pumpkins – October 12
Using paint and your imagination, paint your own mini-pumpkin to get into the October spirit. Templates will be on hand, but you are always welcome to use your own creativity to create a one-of-a-kind piece.
Mosaic Trivets – November 9
Try your hand at mosaic art and make a trivet that can be used functionally for your Thanksgiving meal, or decoratively for your home.
Snowflake Reading Lanterns – December 7
Come learn the art of decoupage and create your own snowflake-themed reading lantern for your room Participants must be able to use a hot glue gun independently.