This Heritage Day, the Trails Committee will be using its booth to promote its social media following. To encourage the public to "follow" them (in order to receive updates and be notified of events), the Committee is promoting a gift certificate "Giveaway".
You don't have to attend Heritage Day to participate. In fact, you can enter to win now — though prizes won't be announced until after Heritage Day.
Thanks to businesses that donated, the Committee will be giving away gift certificates from Nans Market, Gulbankians, Lv7 massage, and the NE Botanical Garden at Tower Hill.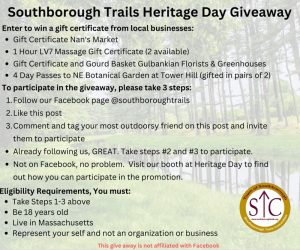 To be eligible to enter, you must be an 18 year old Massachusetts resident, and represent yourself (not an organization or business).
If you won't be attending Heritage Day this Monday, you'll need to have (or create) a Facebook profile to participate.
Anyone who doesn't have a Facebook page can visit the committee's Heritage Day booth to learn how to participate. (That's on St. Mark's School's field from 10:00 am – 3:00 pm on October 10th.)
For Facebook users, there are 3 simple steps to participate:
"Follow" the Committee's page — facebook.com/southboroughtrails. (If you are already a follower, you can skip this step.)
"Like" their special post promoting the giveaway.
"Comment and tag your most outdoorsy friend on [that post] and invite them to participate"