Heritage Day is barely behind us and I'm asking you to think about Christmas. But for a chorus to come together takes practice. So, singers in the annual Messiah concert will begin rehearsing in two weeks.
The Messiah Community Chorus tradition of performing selections from Handel's Messiah began in 1971. It was put on hold for what would have been its 49th and 50th years. Now it's back.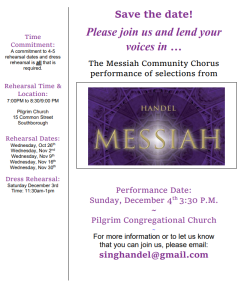 The concert will return to Pilgrim Church on Sunday, December 4th. (Stay tuned for ticket information closer to the date.)
Organizers are currently recruiting voices to join them. The chorus will hold rehearsals at the church on Wednesdays at 7:00 pm, starting October 26th.
Singers only need to commit to attending 4-5 rehearsals, plus the dress rehearsal. To ask questions or let them know you plan to join them, you can email singhandel@gmail.com.
You can find more information in the flyer above right.