For the second year, Southborough Kindergroup is hosting a free pre-Thanksgiving fun run — the Kids Turkey Trot.
Once again, kids of all ages are welcomed to join them for a series of fun runs. Age categories span from a stroller race to ages 8+.
For families who have fond memories of pre-2020 Thanksgiving Day fun runs, it's worth noting that this year's Gobble Wobble doesn't include one.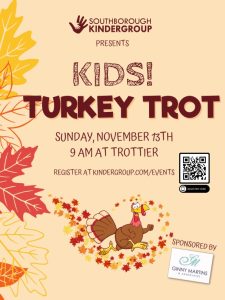 Kindergroup's (unaffiliated) event will take place Saturday, November 13th. Check-in begins at 9:00 am and races start at 10:00 am. There will be free coffee and donuts.
While there, families will be able to purchase tickets to a raffle for a 2 night stay at RiverWalk Resort at Loon Mountain, "a grand new destination experience in the Basecamp of the White Mountains in Lincoln, NH".
The event takes place on Trottier Middle School's track (49 Parkerville Rd). It's sponsored by Ginny Martins & Associates.
To complete the required waiver in advance, click here.
The registration page includes:
While in no way required, in the spirit of Thanksgiving we will be collecting donations for the Southborough Food Pantry. A list of their current needs can be found on their website, www.southboroughfoodpantry.org.