Northborough and Southborough Girls Lacrosse is inviting kids in Grades 1-4 to take part in a clinic on November 8th.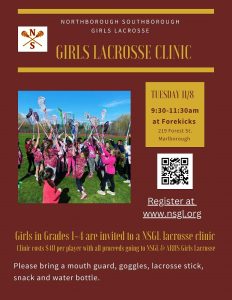 There will be no public school* on Tuesday the 8th to allow voting in the state election to take place at the schools.
That morning, 9:30 – 11:30 am, NSGL will hold a clinic for grades 1-4 at Forekicks in Marlborough. The clinic will be run by Director Val Hickey along with volunteers from the Algonquin Girls Lacrosse team.
The cost to participate is $40. Registration is available through NSGL's website. The site also promotes that early bird registration is open for their spring season.
*November 8th is a Professional Development Day for teachers.