Next week, the Northborough Southborough Special Education Parent Advisory Council (NSPAC) is partnering with other PACs to offer an inspirational virtual workshop.
The guest speaker is Jonathan Mooney "an award winning writer, entrepreneur, and activist who did not learn to read until he was twelve years old."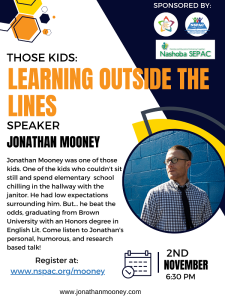 The event promotion explains:
This workshop features Jonathan Mooney's personal, humorous, and research based talk on being "one of those kids" who couldn't sit still and spent elementary school chilling in the hallway with the janitor. He had low expectations surrounding him. Learn about how he beat the odds and graduated from Brown University with an Honors degree in English Literature. . .

Jonathan has established himself as one of the foremost leaders in the neurodiversity and the learning revolution. He is a widely sought after speaker whose work has been featured in The New York Times, The Los Angeles Times, The Chicago Tribune, USA Today, HBO, NPR, ABC News, New York Magazine, The Washington Post, and The Boston Globe.
The webinar, "Those Kids: Learning Outside the Lines", is scheduled for Wednesday, November 2, 2022, 6:30-8pm. The public is welcome to join, but registration is required here.
The program is co-sponsored by NSPAC with Nashoba SEPAC, and Shrewsbury SEPAC.
To learn more about NSPAC and their upcoming events (like a parents night out in mid-November), visit nspac.org or follow them on Facebook.