An NSBORO organization is using the Northborough Mooyah to raise some moola again. The fundraiser for Algonquin's Unified Basketball program is tomorrow, Tuesday, November 15th.
The fundraiser starts at 11:00 am and runs to 9:00 pm. So, you can take advantage for lunch or dinner. If you mention the fundraiser when you order, a portion of the amount charged for your meal will be donated to the inclusive sports program.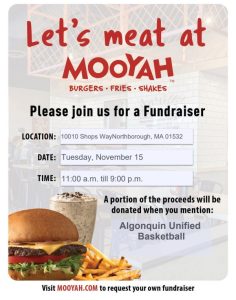 The restaurant is located at 10010 Shops Way in Northborough.
The chain's focus is burgers, fries and shakes. But they have other options, like alternative burgers (turkey or black bean). You can check out the menu and other details here – just don't place your order through the website!
You can, however, use their mobile app. If you download it and create an account, you'll get free fries as a bonus with your order. Plus, you can designate the fundraiser through the promo code "NORTHBOROFUN". (See instructions left.)