We are coming up on that time of year when a spiced cookie that is usually ignored is suddenly celebrated. (Though, more get decorated than actually eaten!)
There are two programs promoted to encourage the community to decorate gingerbread. One event is free and the other is a fundraiser. Both require pre-registration.
Gingerbread House Building at Pilgrim Church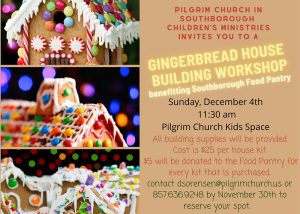 Pilgrim Church is holding a Gingerbread House Building Workshop on Sunday, Dec 4th, 11:30 am in Pilgrim Church Kids Space.
Build gingerbread houses while listening to festive music and drinking hot chocolate.
The event is a fundraiser to benefit the Southborough Food Pantry. ($5 will be donated for each $25 house kit purchased.)
"All building supplies will be provided" at the workshop. The deadline to register is November 30th.
To reserve your spot contact dsorensen@pilgrimchurch.us or call 857-636-9248.
Gingerbread Person Decorating at the Library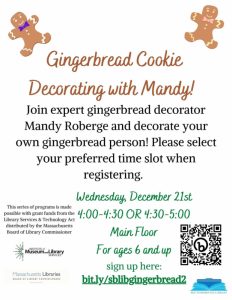 The Southborough Library will be bringing back Mandy Roberge to help kids decorate gingerbread this winter.
Her Gingerbread House popular program was full – but they managed to book her to decorate gingerbread cookies. (That option also enables them to hold an extra session, allowing more kids to take part in the fun.)
Each participant will get to decorate their own gingerbread cookie.
The free events for ages 6+ will be held on Wednesday, December 21st. Sign up here to join them at 4:00 or 4:30 pm. (Don't wait too long since these events do tend to fill up.)
Reminder: You can find a full save-the-date list of upcoming holiday themed events in/related to Southborough here.
Updated (11/22/22 9:56 am): I added a little more detail to the first event.