St Anne's Parish is inviting families to a special Brunch this Sunday. The party will include many of the festivities associated with the Christmas season, but with a religious focus.
Although registration isn't required, attendees are encouraged to RSVP at rachelle@stannesouthborough.org.
Earlier this fall, the promotions for the December 4th event focused on the staged reading of the play "The True Story of Santa Claus" plus a party Christmas crafts and a photo with Santa. An updated flyer refers to a photo with St. Nicholas.
Given the image in the flyers, I reached out to organizer Rachelle Carmony to understand what families can expect "St Nicholas" to look like. She explained that Santa will appear in a vintage styled robe. In the play, he will read a story to children explaining his origins as St. Nicholas.
The approx. 15 minute reading (with images projected on a screen) will take place at 11:30 am. The party is scheduled to continue until 1:00 pm.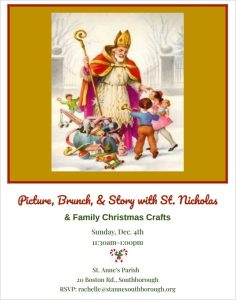 Following the reading, attendees can take a picture with St. Nick and enjoy a brunch.
Families can also take part in activities in Santa's Workshop. Those include:
Making Nativity "Gingerbread" Houses (using graham crackers)
Hanging Stockings for Jesus (with spiritual gift offerings)
and activities with ornaments and wreaths that highlight scriptures, prayers, and liturgical readings
The festivities all take place in the Parish Hall at 20 Boston Road.