A week from this Sunday, the Interboro Community Band is playing its first Winter Concert since 2019.
The performance is December 11th at 2:00 pm. As always, the community is invited to enjoy their show for free.*
ICB will be playing "Contemporary Selections and Holiday Favorites from the Symphonic Band Repertoire". (You can check out the full concert program with selections here.)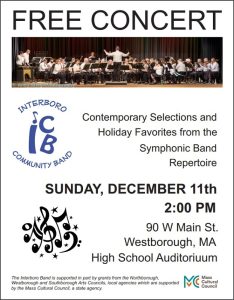 During intermission, the audience can chat with band members and enjoy refreshments.
This year, the concert will take place at Westborough High School (90 W Main St).
ICB was founded by Algonquin's music director over 50 years ago. Until the pandemic, the band had rehearsed and performed out of NSBORO schools. When it resumed rehearsals prior to last spring's concert, it was forced to shift locations. Fortunately, they found space in a neighboring borough.
In their most recent communication, ICB assured that the band still boasts many members from Southborough.
*(Thanks to the Mass Cultural Council grants through the Southborough, Northborough, and Westborough Cultural Arts Councils.)