The NSBORO Schools asked me to promote their job openings. While I'm at it, I'm including a new DPW job opening that I discovered was recently posted by the Town.
If you'd like to share your company's Southborough based job openings in future weeks, email mysouthborough@gmail.com.
To look for previously posted jobs in Southborough, click here.
Public Schools of Northborough and Southborough (NSBORO)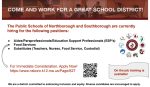 The school asked me to share their job advertisement, right. As long as I'm doing that, I also included a list below of the district/Southborough/Algonquin positions posted on their website since my previous post:
Food Service (Cafeteria) Worker — Finn School
Aide/ESP Education Support Professional (Part-time) .5 FTE — Finn School
Substitute Custodian
Substitute School Nurse
Substitute Food Service (Cafeteria) Worker
Aide/ESP – Education Support Professional — Preschool (at Finn School)
Food Service (Cafeteria) Cook — Trottier Middle School
For all NSBORO opportunities (including ones previously advertised or in Northborough K-8 schools) click here.
Town of Southborough
Highway Division Operator (full-time)

Work includes typical Highway Division operations including brush mowing, line painting, street sweeping, catch basin repair, pot hole filling, plowing, and miscellaneous work order items. Work also includes other Public Works operations including, but not limited to, water main break assistance, hauling, transfer station operations, cemetery maintenance and assisting with interments.

Starting hourly pay range is $26.38 to $28.82 per hour.
Apply by December 19 – click here for details and here for online application
For other Town opportunities (previously advertised) including the reposted Water Division Operator position, click here.