Previously, I posted that Algonquin's chapter of the National Art Honor Society was inviting the community to come out to their "Winter Wonderland" on December 11th. It appears that that event ended up being postponed.
The "family friendly" festivities will now be held in late January. All of the other information remains the same (including the RSVP link which still shows the old date).
At the Wonderland, attendees can take part in arts, crafts, and games. The party in the school's cafeteria will include hot cocoa and baked treats.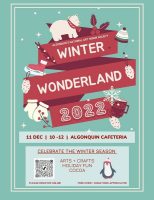 There will also be music and a story time station.
While you can attend for free, donations to the club are "appreciated". Organizers are also asking attendees to pre-register here. (I presume that a benefit of pre-registering is that organizers will alert you of any changes.)
The event will now be held Sunday January 29th from 10:00 am – 12:00 pm. Attendees should park in the lot near the rotunda and enter through the cafeteria doors.