Next week, the Southborough Library is offering a session to help high school students writing essays for their college applications.
During a "College Essay Workshop, Youth Services Librarian Marianna Sorensen will offer review and offer feedback on essay drafts. The Library promotion offers help "at any stage from brainstorming to copyediting."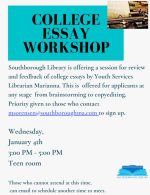 Priority will be given to those who sign up in advance by emailing msorensen@southboroughma.com. Sorensen will meet with participants in the Teen Room on Wednesday, January 4th from 3:00 – 5:00 pm.
For those who would like to take part but have a time conflict, the Library is also offering the opportunity to schedule a special time with Sorensen.
As part of the Library's promotion, students are pointed to the Libary's After High School Libguide for "More help with prep for life beyond high school". The document includes links to resources for finding jobs and building resumes.