Residents are invited to take advantage of local Office Hours in Southborough this Friday afternoon for State Representative Kate Donaghue.
The newly sworn in Representative for our district also shared information on the bills she has already sponsored or cosponsored.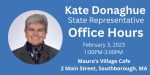 Donaghue announced that she will be at Mauro's Village Cafe from 1:00 – 3:00 pm on Friday, February 3rd. The restaurant is located downtown at 2 Main Street.
The representative of the 19th Worcester District will be holding short meetings "open to any constituent in her district". Donaghue represents all of Southborough and some areas of Westborough, Northborough and Framingham.
Before you make plans to speak about your priorities, you may want to know what she has been up to.
Over the weekend, Donaghue's office issued a press release about bills that she has already filed and co-sponsored.
It states:
"I'm using my voice to fight for our communities on healthcare, combat substance use disorder, and support public education," she stated. Rep. Donaghue filed bills in partnership with legislators from across the Commonwealth, both in the House of Representatives and the State Senate.

"Working with Senators Jamie Eldridge, Mike Moore and Becca Rausch who have filed bills in the Senate, I have filed corresponding bills in the House in a number of areas," reported Representative Donaghue.
You can read the full release overviewing her intent here. Following up on the number one priority Donaghue campaigned on for the seat, she filed multiple bills related to opioid and substance abuse. The release highlights:
"A very personal and important issue to me is fighting substance use disorder. I lost my son, my only child, to an overdose almost five years ago. I was advocating for legislation in this area while my son was alive, and have continued since he passed," noted Rep. Donaghue. Working with Senator John Keenan and Representatives Kay Khan, Smitty Pignatelli, Adam Scanlon and Andy Vargas, a number of bills have been filed.
For more details on each bill, you can find the list with links on the Mass Legislature's website:
Sponsored by Donaghue:
HD.605 — An Act removing barriers to behavioral health services
HD.954 — An Act relative to the effective enforcement of municipal ordinances and by-laws
HD.1692 — An Act relative to the establishment of and payments into an opioid stewardship fund
HD.1763 — An Act relative to discharge from substance use disorder treatment
HD.1951 — An Act relative to opioid use disorder treatment and rehabilitation coverage
HD.2134 — An Act to prevent unwanted opioid prescriptions
HD.2480 — An Act relative to municipal lobbying
HD.2485 — An Act relative to the technology fund
HD.2720 — An Act establishing a behavioral health workforce center of excellence
HD.3119 — An Act relative to the repeal or reform of certain unenforceable or unconstitutional archaic laws on religion, piety, and morality
HD.3447 — An Act relative to the Massachusetts State College Building Authority.
HD.3449 — An Act relative to councils on aging
HD.3737 — An Act providing access to full spectrum addiction treatment services
Cosponsored by Donaghue:
HD.267 — An Act relative to the closing of hospital essential services
HD.393 — An Act to reduce incidence and death from pancreatic cancer
HD.577 — An Act relative to pesticides
HD.766 — An Act relative to universal school meals
HD.1555 — An Act helping overdosing persons in emergencies
HD.1835 — An Act requiring health care employers to develop and implement programs to prevent workplace violence
HD.2234 — An Act relative to student mental health
HD.2385 — An Act to increase regional transit accessibility in the Commonwealth
HD.2491 — An Act promoting patient safety and equitable access to care
HD.2497 — An Act to increase kennel safety, aka Ollie's Law
HD.2737 — An Act relative to an agricultural healthy incentives program
HD.3322 — An Act promoting drinking water quality for all
HD.3417 — An Act relative to low income transit fares