The police are searching for a missing man from Ware, last seen nine days ago in Marlborough near the Southborough border. Anyone with information is asked to contact Marlborough Police.
An unsuccessful search of a section of the Sudbury Reservoir in our town on Sunday made the news. According to State Police, the search did not locate Jeffrey Allard "or any evidence related to his disappearance."
Based on information publicly shared by police, it appears that Allard was last seen leaving Marlborough Hospital on Sunday, January 22nd, but that police had reason to "believe" he was in the area of Farm Road/Cook Lane in Marlborough (which is near the Southborough border).
Allard is described as 6'1″, 170 lbs with short brown curly hair, and brown eyes. He was last seen wearing jeans and a dark grey hoodie with a Coca-Cola logo on the right side.
On the morning of Sunday, January 29th, Southborough Police posted news that Acre Bridge Road would be closed for most of the day "due to police search/recovery operations in the area", and included a link to a Metrowest Daily News story.
On Sunday night, the Mass State Police issued an announcement explaining the reservoir search in Southborough and noting that it was the third day the MSP had aided in a search for Jeffrey Allard, age 57.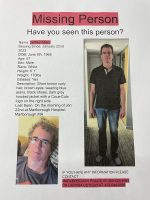 Yesterday morning, MSP tweeted the Missing Person poster right, referring to Allard as last seen at Marlborough Hospital on the morning of the 22nd. Subsequently, the Marlborough Police posted more details to Facebook:
The Marlborough Police Department and various other agencies are requesting your assistance locating 57-year-old Jeffrey Allard who is missing. Jeffrey was last seen on January 22, 2023, and we believe he was in the Farm Road / Cook Lane area. Jeffrey is a white male, 6'1 tall, last seen wearing blue Jeans, black sneakers, heavy gray hooded jacket, black gloves and carrying a black duffle bag (see [below] surveillance pic). We're asking residents that live in the Farm Road/Cook Lane area to please review any Ring camera or CCTV video footage from 8am-5pm on the day of January 22, 2023.

If anyone has seen Jeffrey, and/or has information regarding his whereabouts, please call the Marlborough Police Department @ 508-485-1212. Thank you
According to a Metrowest Daily News' article on Sunday afternoon:
[Marlborough] Police Chief Dave Giorgi said there is no direct information that the person is in that area but police decided to search there because it's near where the missing person was last seen.

The search includes police officers from Marlborough and Sudbury police, as well as a Massachusetts State Police helicopter.
At that time, the authorities weren't yet sharing any information about who was missing and wouldn't confirm it was Allard. But the paper received an email from his daughter stating that Marlborough Police had told her that they were going out with the state police and search dogs on Friday to search for him.
Prior to tweeting its announcement about the search on Sunday night, MSP retweeted without comment a January 24th tweet from a former journalist that stated:
Jeff Allard has been missing since Sunday evening when he left UMass Marlborough Hospital. He did not have a vehicle. He is from Ware MA. If you know anything contact Marlborough Police. His family is very worried.
The unsuccessful reservoir search was also covered by Boston.com and NBC Boston.