This weekend, the public is invited to enjoy a pay-as-you-wish performance by the Assabet Valley Chambersingers.
The concert promotion is one of a few recent announcements that the Assabet Valley Mastersingers asked me to share with readers. They are also promoting the full AVM chorus' upcoming concert later this month and invitingnew singers to join them in Open Rehearsals as they prepare for their May concert. Scroll down for those details.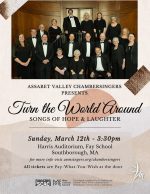 The choral concert "Turn the World Around: Songs of Hope and Laughter" will be performed by an "18 voice ensemble" of select AVM members. It will be held in Fay School's Harris Auditorium on Sunday, March 12 at 3:30 pm.
The Chambersingers' concert will feature "short works and solos including madrigals, folk songs from many cultures, Vocal Jazz, and contemporary settings of great texts."
Below are more details:
There will be songs of love and laughter, intended to delight, encourage, and bring us all together. The program will focus on the theme song "Turn the World Around" which was made popular by Belafonte and the Muppets. The song tells us to understand our relationship with the earth, with each other, and with ourselves. "Breaths," written in the African American folk tradition and made popular by the group Sweet Honey in the Rocks, also tells us to be aware of the world around us. Other songs will include cultural folk songs, musical settings of great poetry, and lighthearted songs intended to entertain. . .

Proof of vaccination is not required and wearing of masks is fully supported but not required. There will be a reserved mask only section for those who prefer that environment.

For parking and campus maps, and other details, click here.
If you're interested in that concert, you may also want to save the date for their spring concert, March 26, 2023 at 3:30 pm at the Algonquin Regional High School's auditorium. The full AVM chorus and an orchestra will perform "Coronation Celebration". (Stay tuned for a dedicated post – or check out more details and a link for tickets here.)
Starting the next day, the group will hold Open Rehearsals to recruit new members as they prepare for their subsequent concert in May, "Celebrating Latin Music":
Interested vocalists and potential members of ASSABET VALLEY MASTERSINGERS will be welcomed at an open rehearsal on Monday, March 27. 2023. Rehearsal time for this rehearsal and all regular Monday practices to follow will be from 7:30 until 9:45 PM at the First Congregational Church of Shrewsbury, 19 Church Road, Shrewsbury MA. 01545. Come to get a sense of how regular rehearsals are run as well as a sense of the group itself. AVM offers a choral experience in a community of welcoming, inclusive, respectful, collegial and talented vocalists who value high artistic standards.
Southborough Council of the Arts is one of multiple local agencies of the Mass Cultural Arts Council that awarded a grant to sponsor AVM's concerts this year.