In two weeks the ARHS Gymnasiums will be transformed into an 18-hole mini golf course. It's just one of the activities the school will host as part of a "Putting for Patients" fundraiser.
The event with concessions and other fun will benefit the Jimmy Fund in support of their fight against pediatric cancer.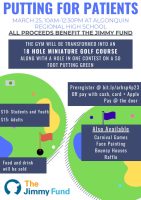 Admission will be $10 for youth and $15 for adults. Tickets cover mini golfing and entrance to the hole-in-one contest and raffle.
Additional fun (for small, extra fees) include concessions, face painting, carnival games, and bouncy houses.
All NSBORO students, families, and community members are invited to attend. Children must be accompanied by an adult.
The event is organized by the Algonquin Student Council. It was originally organized for March of 2020 — and cancelled for obvious reasons. Now students are excited to finally be able to hold the event on Saturday, March 25th from 10:30 am to 12:30 pm.
Attendees may register in advance here or when they arrive. Cash, card, and Apple Pay will be accepted for admission and concessions.
All profits will benefit the Jimmy Fund which supports Dana-Farber Cancer Institute's cancer research and patient care. (Their goal is to raise $5K.) If you can't attend but would like to support the cause, you can donate here.
If you have any questions about the event, email arhsstudentcouncil@nsboro.k12.ma.us.