Before you make up your shopping lists for the weekend, I wanted to raise awareness about two groups looking for food donations.
In recent weeks, the Southborough Food Pantry highlighted that community support that surged to meet challenged posed by the pandemic has dropped off at a time when they really need help for the 136 people (64 families) that they serve.
At the same time, another group of organizers is promoting a new "Southborough Free Fridge" to support the community.
Messages from the Food Pantry organizers highlight that SNAP benefits are being cut* at a time when food prices are up. During the pandemic when the need was clear, the community really stepped up its support. But as life has normalized, contributions have waned.

Anyone who wants to help can find the pantry's latest food needs list (or how to donate financially) here. Non-perishable donations can be dropped off in the bins at the back door of Pilgrim Church's Fellowship Hall at 15 Common Street.

(If you are planning a larger collection for them, like ARHS' Class of 2024 and the Youth Ministry at St. Matthew Church each organized in February, you should probably contact them directly first about their needs and to schedule a drop-off.)
Conversely, if you're a family in need of the pantry as a resource, you can click here to learn more about signing up to become a client.
Southborough Free Fridge
For those in need of immediate support, there is no signup required to take advantage of the Free Fridge that was launched this winter.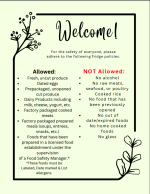 Since it literally makes use of a fridge, unlike the Food Pantry, organizers can accept many perishable foods. (There are limitations. To see the safety rules about what they can/can't accept, see the flyer right.)
The Fridge and a cabinet pantry are housed behind St. Mark's Episcopal Church's Parish Hall (27 Main Street). You can drop-off (or pickup) donations anytime. You can also sign up here to be a volunteer (for tasks like checks & cleaning, shopping, or delivery to non-drivers).

Last week's newsletter from NSBORO schools included flyers promoting the new resource.
Before and since, organizer Jessica Nicole Levenson has been posting news on the Facebook group page Southborough Community Share & Care.

Apparently, the Fridge project started in 2021 with a temporary "Friend Fridge" and a GoFundMe to support a community-wide fridge for a "dignity first, barrier free solution to hunger for *anyone* in need". The installation was completed and "soft launch" announced on the private Facebook page in mid-February.
*You can read about the situation with a reduction in the state's food assistance program in a WBUR story here.