This morning, children may be focused on looking for Leprechauns. But thoughts of the Easter Bunny are just around the corner.
On Saturday, April 1st, community members are invited to two Easter Egg Hunts.* One of those is the long standing annual tradition in Southborough, hosted by Southborough Kindergroup.
As usual, festivities will begin with the chance to take pictures with the Easter Bunny. (Bring your own camera.)
The "hunt" will follow. (Bring your own basket to collect kids' bounty.) Organizers confirmed that along with the regular candy filled eggs, kids can again hunt for "golden eggs" to win a special basket.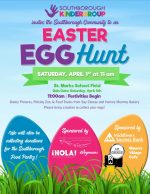 Other details tend to change over the years. This spring's fun includes a petting zoo and food vendors. Gubankian florist will also be at the event selling bunches of Tulips.
The event will take place at 11:00 am on St. Mark's School Field, where it was held last year. (That's at the corner of Routes 30 & 85.) The rain date is Saturday, April 8th.
The event is again free** and no registration is necessary. Instead, Kindergroup is encouraging participating families to bring items to donate to the Food Pantry.
Visit Current Needs – Southborough Food Pantry closer to the date to see what's most in need.
Below are a few pics from last year's event contributed by Southborough Kindergroup or from social media posts:
*It's worth noting that Algonquin's Honor Society is holding a free egg hunt the same morning at 9:00 am for Northborough and Southborough families. I'll be posting those details later today here.
**The free event is made possible through sponsorship by Silver Leaf Acupuncture, Hola Restaurant & Tequila Bar, Wegmans, Middlesex Savings Bank, Say Cheese, and Mauro's Village Cafe.
Updated (3/17/23 3:24 pm): Kindergroup confirmed that there will be golden eggs to redeem for prize baskets.