On Tuesday night, Town Administrator Mark Purple announced that the Town's golf course would be open for play today.
As of this morning, there are already golfers on the course.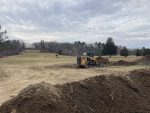 Today's forecast includes showers. But that shouldn't be enough to deter real golf lovers. What might be a little harder for some to get past is the tee construction project still underway. (Apparently, some can since I found a few golfers on the course this morning.)
According to Purple, that work should be completed sometime in April. In the meantime, they "expect minimal disruption of play".
Given the state of the tees, I checked in with the Southborough Golf Club to find out how many of the 9 holes are available for play. The answer was all of them. (There are markers for golfers can tee off for holes 6 & 7.)
For those not familiar for the reasons behind the tee reconstruction, it is the Town's attempt to fix a problem with errant balls too frequently hitting nearby homes on Latisquama Road.
If you can ignore the elephant in the room, according to Purple the greens weathered winter well and the course is in good shape.
On occasion this spring, the course will have to be closed for hours or a day at a time for a different reason. The parking lot is finally rescheduled for paving.
To book a tee time, click here.